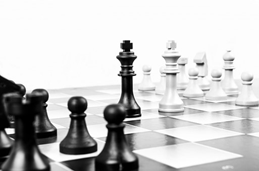 I've been seeing some articles about behaving gracefully in the workplace. This idea lends itself to management especially. A good manager is not just someone who knows how to lead, delegate and inspire, but someone who acts kindly and is thoughtful in his or her actions. Similar to playing chess, anticipating your opponent's next moves, a manager needs to think before acting to see all the pieces in play.
This subject came up recently when I was dealing with a very upset young woman who, without warning, was told that her position was being taken away. Immediately after hearing this, right in front of her, her boss gave a co-worker the position. Obviously, she was extremely distressed as she didn't know why she was being "demoted." And, she felt publicly humiliated in front of her peers.
For a week, no-one spoke to her about what happened or what was
going to happen. She didn't seek out her boss because she was afraid of
"losing" it or crying in front of him. She told me that she needed some time to
sort through her feelings and pull herself together.
After a week of feeling bad and thinking about next steps including possibly finding another job; her boss finally came to her. He actually apologized for mishandling the situation. What seemed like a demotion was actually the opposite. The company wanted her to take on a bigger role and they didn't want her distracted with her current role.
In hindsight, and at this woman's expense, the boss wasn't considerate or thoughtful in how he handled things. Nor had he acted gracefully, showing her the appreciation and respect he and the company obviously had for her. Maybe if he had thought about what he was going to do first, she wouldn't be considering other employment options. One's actions can impact the overall culture and morale in an organization either positively or negatively. Managers need to reflect first before acting.